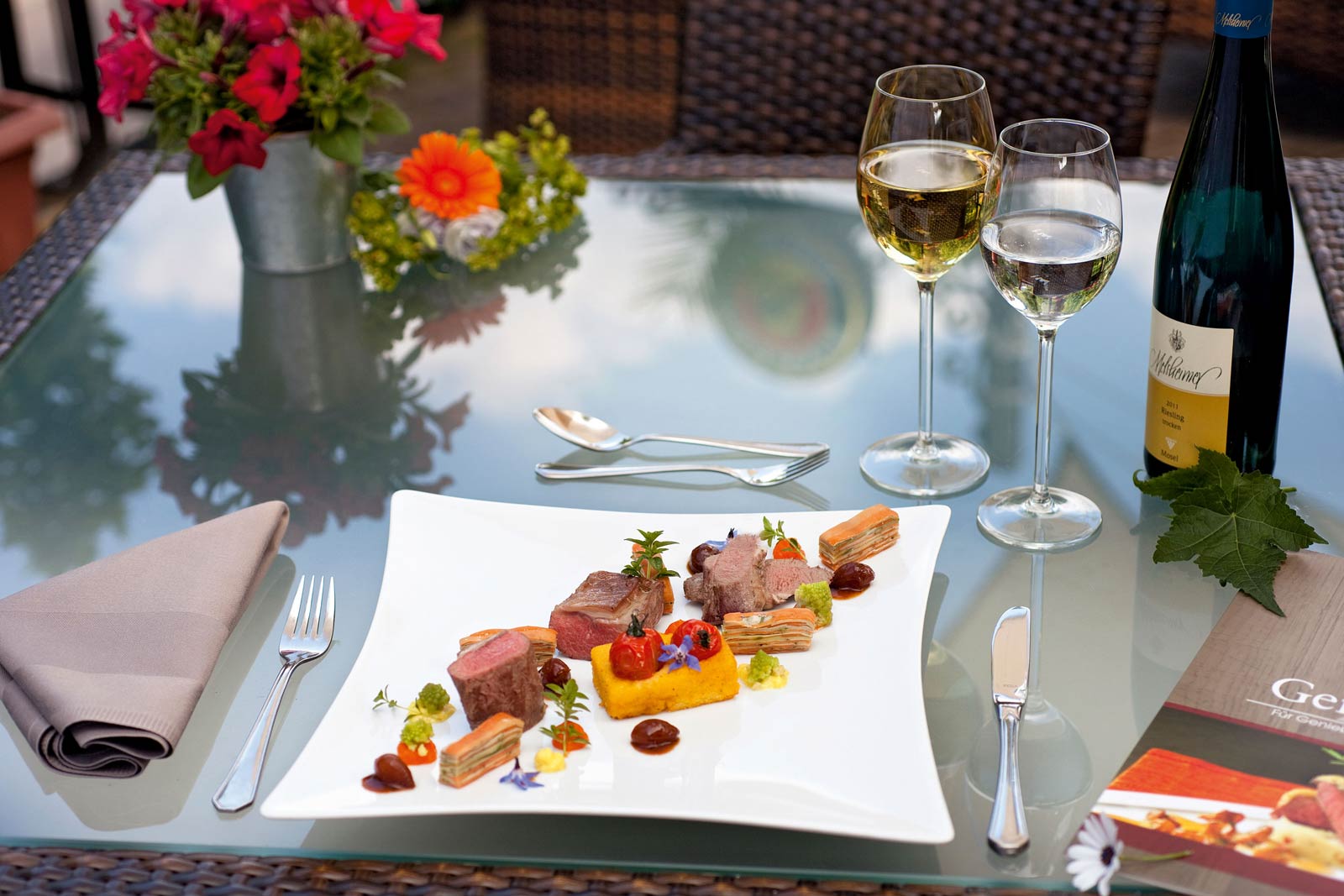 Restaurant – Our beauty Spot
Our restaurants and conservatory offer a superb view of the Moselle and the vineyards on the opposite side of the valley. Soak up the fresh, elegant atmosphere while you enjoy our superb selection of German and French dishes. Whether they go for the locally-caught perch, crayfish served with the best cuts of Eifel beef or our "Reil menu", featuring the traditional pot roast ("Sauerbraten"), guests and friends alike are always delighted with their choice and want to return again and again.

Restaurant "Villa's Classic" is open daily from 12am to 10pm
Kitchen times: Mon, Tue, Wed from 12am to 9pm
Kitchen times: Thu, Fri, Sat, Sun from 12am to 5pm

Restaurant "Villa's Wine&Dine" is open
Thu, Fri, Sat, Sun from 12am to 10pm
Kitchen times: Thu, Fri from 6pm to 9pm
Kitchen times: Sat, Sun from 12am to 9pm

Menue cut-off time is 8:30pm for both restaurants.

We are looking forward to welcome you! You would like to reserve a table? Call +49 6542 900034
Reserve a table by email
Panoramic terrace
Sun + Wine = Mosel

Beautiful warm sunshine, the gentle trickle of water, the happy twitter of birds… experience all of these on our riverside terrace with its breathtaking panoramic views. Watch the wine-growers at their work as you enjoy our fine dining experience, accompanied by special Moselle wines.

Our team of staff is here to help in any way we can.

See the Moselle at its very best.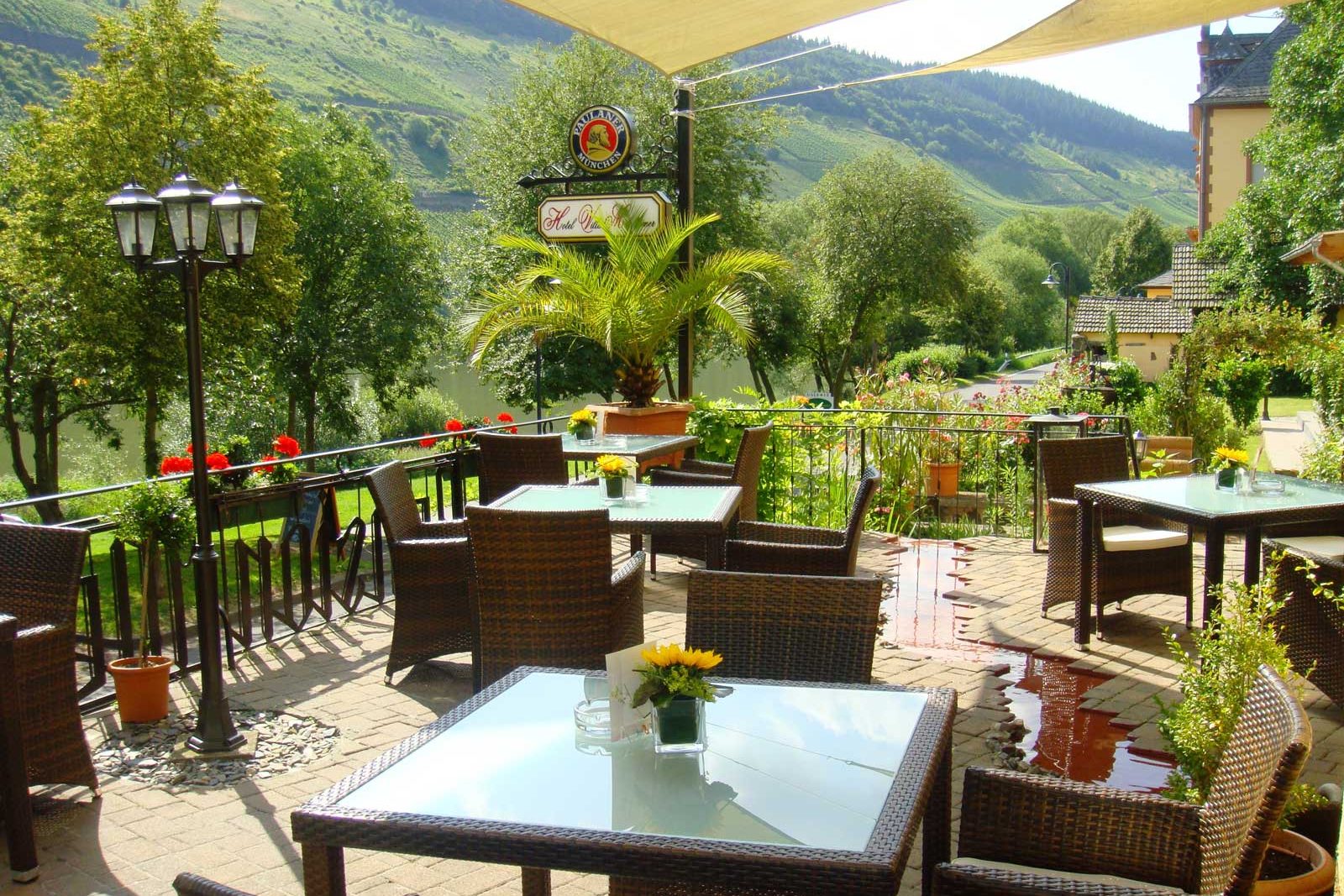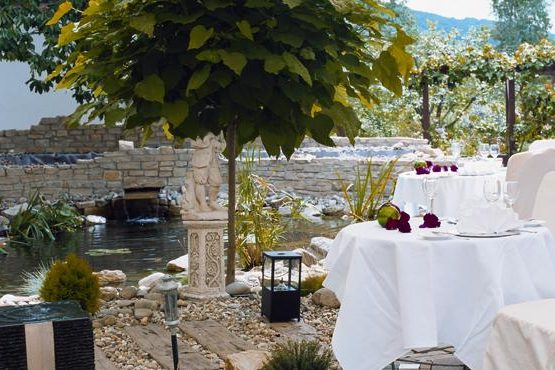 Our rock garden – Mediterranean flair
Even in the Moselle region, there's no reason why you can't enjoy a glass of refreshing Paulaner Hefeweizen (wheat beer) – available in our delightful rock garden.
A quiet moment or two under our 100-year old walnut tree, surrounded by lush grass and roses.
Enjoy Bavarian delicacies and one of the world's best wheat beers ("Weißbiere")!
Originally two stylish and classy villas built for the family 100 years ago, today guests can enjoy the buildings in all their glory!
Bar / Fireplace room
Enjoy the evening …

When you are sitting by the fire, enjoying an after-dinner drink, why not have a change from cognac? In addition to local specialities such as 21-year old, oak-matured "Asbach Uralt", we also have a wide selection of brandies from our long-established local distillery. Perhaps you would like to try something from our Jack Daniels Collection or even an Otard or a Remy to sip by the fireside?

For something a bit lighter, why not visit our hotel bar, "Martini's"? We have a range of cocktails and long drinks to suit every taste – and good music too!